compact/box vV1.0 est une installation sonore et visuelle qui est constituée de cinq modules comportant chacun une platine et un haut-parleur intégrés, jouant des disques spécialement produits qui se composent de sillons sans fin créant des boucles de sons de 1.8 secondes à 33 1/3RPM.
Les modules occupent l'espace formant un orchestre de platines où chacun devient un instrument. Les visiteurs peuvent progresser autour des modules et modifier les boucles de sons jouées sur chaque platine ce qui provoque des modifications constantes dans les rythmes et les sonorités.
Le paysage visuel est contrôlé par les rythmes et les tonalités de chaque module. En changeant les boucles, les visiteurs influencent le paysage qui est composé d'animations et d'illustrations de 1.8 secondes. Le paysage représente les systèmes et les flux, suggérant les activités mentales et ses inconsistances, la variabilité, l'aléatoire et l'instabilité des systèmes. compact/box vV1.0 inclue une édition limitée de vinyles produit pour mapping festival 2007.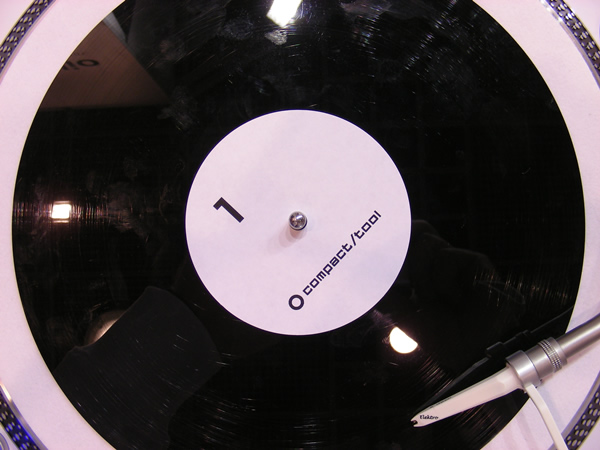 compact/box vV1.0 is a sound and visual installation consisting of five modules, each featuring an integrated turntable and loudspeaker, playing specially produced records with endless grooves looping for 1.8 seconds at 33 1/3 RPM.
The modules occupy the space, creating an orchestra of turntables where each becomes an instrument. The visitors can walk around the modules and modify the sound loops played on each turntable, leading to constant changes in rhythm and sound.
The visual landscape is controlled by the rhythm and sound of each module. By changing the loops, the visitors are influencing the landscape which is made of animation and illustrations of 1.8 seconds. The landscape represents systems and flux, suggesting mental activities and its inconsistencies, variability and systems' randomness and instability. compact/box vV1.0 includes a limited edition of 12" records produced for mapping festival 2007.